Every year, e-commerce grows further to gain an increasing share of overall retail trade. In 2020, marketplaces grew by 27%, propelled by the COVID-19 crisis. This surge in online sales has not been without consequences for brands. Indeed, they sometimes struggle to control the compliance of their product listings with online retailers. Yet the stakes are high, both in terms of brand image and costs. So, how can businesses adapt to this new landscape with a large number of marketplaces and e-commerce websites? Let's take a deeper dive in this article.
Growing need to control online commercial visibility
While some brands distribute their products via their own e-commerce website, others are turning to marketplaces, which are much less expensive. By 2022, these are expected to account for nearly 70% of online sales. As a result, brands may be faced with an increase in the number of retail partners, and therefore, of product listings to monitor. Indeed, brands need to check that their product information is correct on all reseller websites.
Currently, this verification process is relatively expensive and very time-consuming for marketing teams. However, it can't be dispensed with in such an ultra-competitive and constantly shifting environment. Control of e-merchandising is key for success!
Mastering your online sales territory is more important than ever
Monitoring the compliance of online listings helps brands keep control of their distributor network, and thus ensure that trade deals with distributors are complied with. A luxury cosmetics brand, for instance, will not want its products sold on Amazon if there is no trade agreement between them. Indeed, poor control of the sales territory can have a negative impact on the brand image, a key aspect considering 64% of consumers check reviews before making an online purchase.
Product monitoring involves controlling images. Protecting the end buyer involves making sure the visuals featured on a retailer's website are accurate and faithful to the actual product. For instance, a high-tech brand would be well advised to check that the image associated with a camera listing matches the model described on the website, and not an older version. Indeed, such non-conformities between the visuals and products listed are quite common, and often costly for brands, which have to assume return costs.
Finally, monitoring product listings also helps brands track how their competition's commercial visibility evolves over time.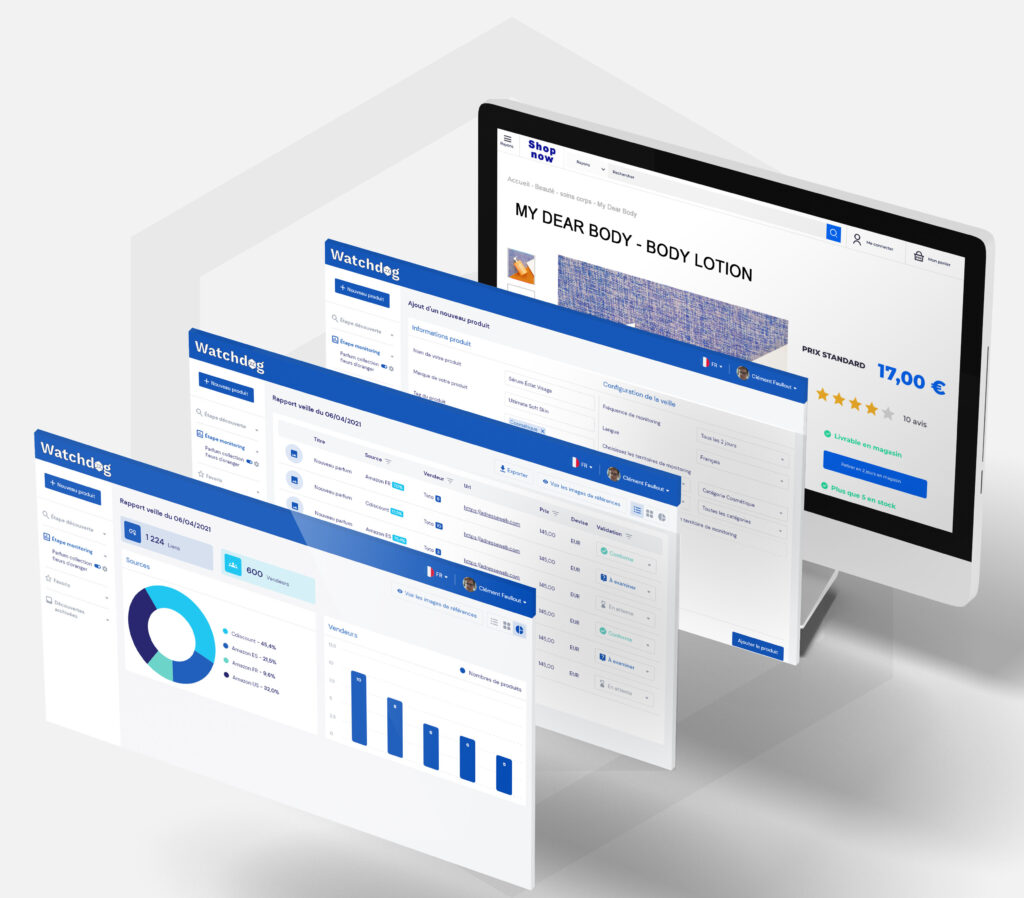 How to automate product listing compliance monitoring
As you can see, there is a lot at stakes when it comes to monitoring product listings on marketplaces. And for many businesses, this process is no easy task, as their marketing teams spend much time checking individual product listings on each reseller website, by hand.
This method is incredibly time-consuming, especially for large product catalogues (more than 50 products). And in an ever-evolving environment, it is difficult to renew the process regularly.
To overcome this challenge, automated technologies are emerging to help brands save precious time in monitoring online images.
Brands simply have to enter information about their products, upload associated images, and select which reseller sites and marketplaces to monitor. The tool then automatically scans the relevant websites, and uses visual recognition to validate the product listing and generate KPIs on compliance.
Opting for an automated monitoring solution not only allows brands to better control their sales territory, but also to increase their responsiveness to detected errors. It also makes it easier to manage listing classifications.
In terms of costs, this type of technology is worthwhile, since it drastically reduces the time spent on monitoring: it's no longer a matter of days, but seconds! Furthermore, brands can carry out continuous monitoring by selecting a watch frequency.This technology also provides a better understanding of competing brands and their sales territories.
The explosion of online marketplaces is not about to be reversed. In the years to come, SMEs, mid-cap companies and large groups will need to market their products via marketplaces. This trend impacts all sectors, both B2B and B2C. Thus, the challenges related to listing monitoring on e-commerce websites will only grow further. To stay on top of things, brands have a direct interest in using automated solutions based on image recognition.