Mobile marketing experiences can support various marketing strategies. So what's in it for your business? And for consumers?
By 2021, it is estimated that 8 out of 10 smartphone users will make it a habit to do some preliminary research before going to the point of sale.
Whether they are looking for information on product features, comparing prices or checking reviews, consumers are increasingly attentive to what they buy.
Brands can now meet these expectations by tying their products to the object most used by consumers: their smartphone.
What benefits for consumers from marketing mobile ?
A simplified path to purchase
Smartphones can make it easier for consumers to make a purchase.
For instance, Galeries Lafayette Haussmann has developed an app that helps customers find their way around the department store.
Outside the store itself, mobile marketing experiences can help streamline the click-and-buy process. Paco Rabanne tried this with a connected sampling campaign. All consumers had to do was take a photo of the sample to be directly redirected to the brand's online shop.
On the drive-to-store side, the example of Canadian clothing brand Mark's is particularly relevant, as it integrated thermometers into its advertising panels. Each degree below zero was matched to the discount percentage available to customers. A strikingly original way of inciting people to visit their shop.
An aid to decision-making
Mobile phones are an effective way of facilitating access to information about a product or service, with packaging becoming a digitalised information vector. A great example of this is Yuka, a mobile application that allows users to find out about the ingredients of food and cosmetic products by simply scanning their barcode.
In another instance, Ikea has an app that allows products to be viewed in augmented reality. This helps consumers project themselves and makes them more likely to order new furniture. It is estimated that 60% of consumers use their mobile phones in stores to enquire about a product.
A great way to build proximity with the brand
Mobile marketing campaigns are an effective way to keep the relationship between the brand and its customers going after the purchase has been made.
In 2017, Danone opted for connected bottles for its Danish brand Aqua D'Or: by snapping a picture of the label, the consumer could discover the brand's universe and the causes it supports (promoting water over sodas for instance).Building such proximity also involves customising the mobile experience. Something French brand Naguelann has mastered: the packaging of their high-end whisky bottles, which are often offered as gifts, becomes a means of communication between the buyer and the recipient. Each bottle is unique and delivers a personalised message that can be accessed by taking a picture of the label.
What benefits for brands from marketing mobile ?
An opportunity to measure and amplify campaign performance
Taking the example of sampling campaigns, it is extremely complex to identify a causal link between the distribution of samples and their actual impact on sales. To address this issue, mobile technologies such as LTU's solution LinkMe make it easy to report on mobile marketing campaigns and assess their return on investment. Each product scan is counted and analysed.Such connected campaigns also help optimise the visibility (and therefore profitability) of existing content by sharing it through the product scan.
Get a better understanding of users
A significant benefit of connected mobile experience campaigns is the ability to capture consumer-product interactions (so-called clickstream). This data is invaluable when it comes to learning about users' interests and building loyalty by offering them more relevant products or services.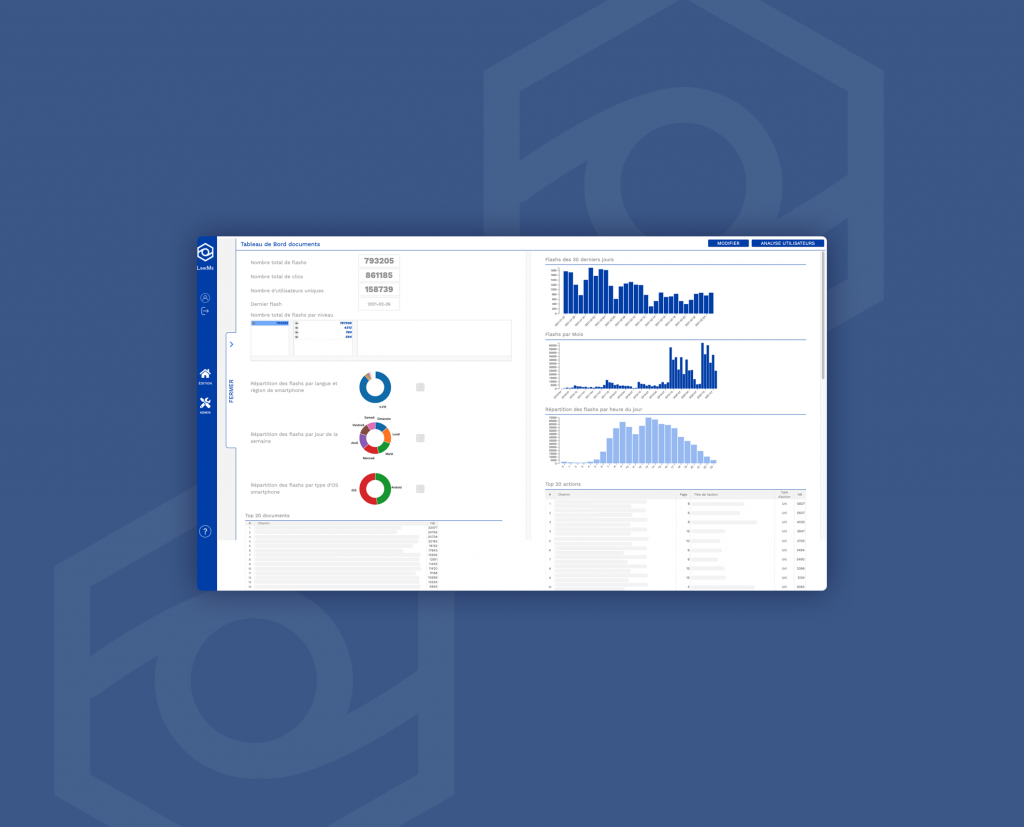 Good Data approaches (asking consumers for their opinion on specific aspects of the product) can also be channelled through such mobile experiences. The consumer feels involved in the brand's development, which in turn positively impacts its reputation.
Boosted turnover
It has been shown that mobile marketing experiences lead to increased sales, especially because the shopping journey remains uninterrupted and users have easier access to incentives such as discounts.
In the for instance, more than 58% of in-store sales directly result from a digital experience.
Finally, mobile is an additional storytelling tool for the brand universe, which contributes to building a positive brand image. In the long term, consumers who have a positive image of a business will be more likely to buy from it again.
For many companies, the challenge in the next few years will be to accelerate their digitalisation in order to become a connected brand. A phenomenon that has accelerated in the midst of the pandemic, the big winners being the brands that have managed to build a connected relationship with their customers.
And now?
Don't wait any longer, and offer to your consumers a connected objets experiences through a simple mobile scan with LinkMe. It's not all, you can offer both Augmented Reality content and web content, you no longer have to choose between one or the other!
To learn more 👉 watch the video!
To request a demo 👉 Click here